Central College Brand
Digital Guidelines
Digital Imagery
The three primary file types that should be used are JPG, PNG and GIF. Google has provided this nice explanation of when to use what: https://developers.google.com/web/fundamentals/design-and-ui/responsive/images#choose_the_right_format. In some instances an SVG file is acceptable. Below are some tips for when to use what file format.
Photos: Use JPG always.
For photos uploaded to third-party services: In Photoshop use the "Export As" feature and make sure the quality is set to 85% and the resample is set to "bicubic automatic." This will compress the image without losing much quality resulting in a smaller file size which loads faster.
For photos used on our website: In Photoshop go to File > Save. Set the destination and select JPG from the file type dropdown and then hit the save button. You will then be presented with another dialog box. Set the quality to 8 (high) and under format options check "progressive" and set the scans to 3.
Infographics, text only graphics or images with no photos: Use PNG.
The PNG format offers the best compression ratios compared to a GIF. It is also helpful to post-process PNGs because some image editors adds extra data to the file. https://tinypng.com is a quick and easy way to handle the post-processing.
Short animation: Use a GIF
Long animation (more than 10 seconds or so): Use a MP4 video.
In some cases it is difficult to determine the best a file type particularly with infographics. Example: https://twitter.com/CentralDutch/status/850026568697118720. In most cases it makes sense to create a JPG because it will preserve the photo the best. You may need to adjust the quality on the export settings in Photoshop so you don't see artifacts around the infographic parts of the image. Alternatively, a PNG may provide adequate photo preservation while removing artifacts from the infographic portion of the image. Typically it is trial and error to see which is best.
Email Signatures
If you are a PC user and would like to create a branded email signature please follow the directions below. If you are a Mac user and need assistance (the color palette is a bit different), please contact Lindsey Maurer at ext. 7617.
Click to open a new email.
Click on the "Signature" icon at the top of your email template and then click on "Signatures…" at the bottom of the dropdown menu that appears.
In the "Signatures and Stationer y" dialogue box, under "Select signature to edit", click on "New."
Name is in Calibri (Body) 14 pt. Bold all caps.
First name all caps in Red (under Standard Colors, second from left on color chart).
Last name all caps in Gray (under Theme Colors, bottom of first column on color chart).
The email address is listed in Blue (under Theme Colors, fifth column from left on color chart, second from bottom).
Vertical line to separate text elements is above the backslash key on most keyboards. Leave one space before and after the vertical line between the text elements.
Double space after postal address.
If you choose to include any additional content, such as a quote or tagline related to your work, we ask that you add it below the logo.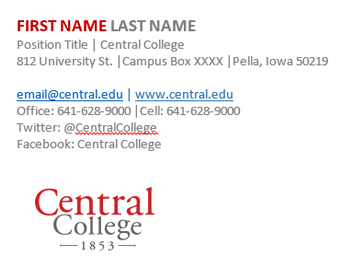 Social Media
The college's graphic identity can be adapted for social media use, but with some restrictions. Please contact Jacob Oyen in the Central College Communications Office at 641-628-5339 or oyenj@central.edu for additional information and assistance.
Join our conversation on social media. Below are our standardized hashtags. Use them to keep the conversation trending.
#CentralCollege
#GoDutch
#ForeverDutch
#BeyondCentral