Templates & Resources
Skip to Section:
Offices on campus sometimes need to create basic publications. These could include brochures, pamphlets, postcards or posters. To help make the process easier, and to promote consistency in design across campus, a number of templates are available below to you to assist in design. These templates offer a basic framework to use when designing simple publications.
Layout Examples
Please use this section to influence what you create on behalf of Central College. See Print Showcase for more.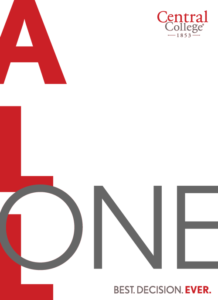 Junior/Senior Viewbook Cover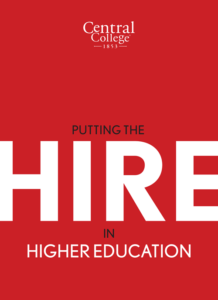 Parent Viewbook Cover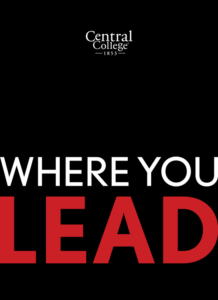 Leadership Viewbook Cover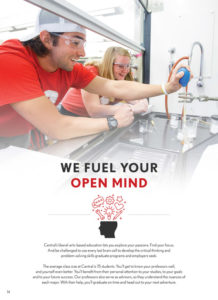 Inside spread — large photo/header/graphic/text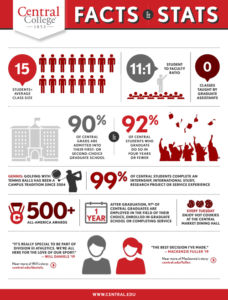 Inside spread — factoids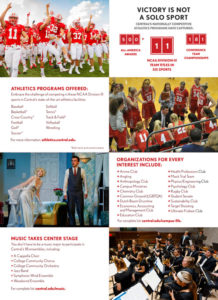 Inside spread — grid
Download Templates
PowerPoint Template
Letterhead
InDesign Templates
The following templates are available to users approved through Central Communications.
Fonts
Detailed information on fonts is available in the graphic standards section.
For help installing brand fonts on your computer, contact Central Communications.
Campus Maps
Email Signatures
If you are a PC user and would like to create a branded email signature please follow the directions below. If you are a Mac user and need assistance (the color palette is a bit different), please contact the ITS Help Desk at ext. 7010.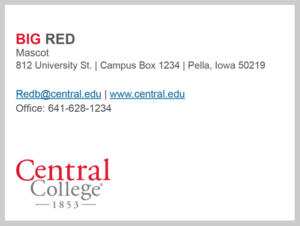 Click to open a new email.
Click on the "Signature" icon at the top of your email template and then click on "Signatures…" at the bottom of the dropdown menu that appears.
In the "Signatures and Stationery" dialogue box, under "Select signature to edit", click on "New."
Name is in Calibri (Body) 14 pt. Bold all caps.
First name all caps in Red (under Standard Colors, second from left on color chart).
Last name all caps in Gray (under Theme Colors, bottom of first column on color chart).
The email address is listed in Blue (under Theme Colors, fifth column from left on color chart, second from bottom).
The vertical line used to separate text elements is above the backslash key on most keyboards. Leave one space before and after the vertical line between the text elements.
Double-space after postal address.
The Central logo can be inserted at the bottom of your signature.
If you choose to include any additional content, such as a quote or tagline related to your work, we ask that you add it below the logo.
Project Requests
Project requests should be directed to Sunny Eighmy.